By Alan Flohr, Vice President of Sales at Direct Commerce
Follow this quick guide to get the answers you need to make your AP Automation a success
Do you know what to ask a provider when you're looking for an AP Automation solution? If you don't, you may end up committing to something that just doesn't meet your needs.
Our team presented at IOFM Demo Day, hosted by the Institute of Finance & Management (IOFM). Based on the audience response to our presentation and to the work presented by other providers we put together 5 questions you should be asking the AP Automation partners you're considering:
1. What is your supplier adoption rate?
"The most important thing to look for in an e-Invoicing solution is supplier adoption and a team and process to drive it. You can build the greatest thing that ever existed, but if you don't have the team, organization, and diligence for rolling it out it will be underutilized."
—Billy Williams, Chief Technology Officer at Direct Commerce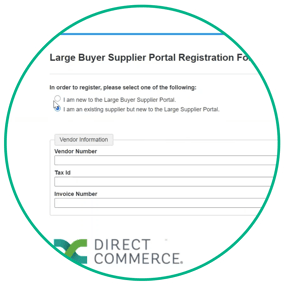 At Direct Commerce, we aim for 100% supplier adoption every time, and achieve that benchmark, or very close to it, with all of our clients. Not only is our platform easy to use, we have a proven onboarding program designed to get you the supplier adoption number that will make AP Automation worthwhile—far above the industry average of 20–40%. Because our current network already consists of over a million suppliers, most of our new clients find that 70–80% of their suppliers are already in our system.
When you meet with AP Automation providers, ask not only what their average supplier adoption rate is, but also if you are able to see who is in their supplier network. If the majority of your vendors are members, it will decrease the time spent on implementation and onboarding and allow you to take advantage of a solution that your suppliers are already using—a win-win.
2. Is your software completely cloud-based?
"Cloud-based tools are dynamic, affordable, and flexible, and are usually the most modern software."
—LevvelResearch 2020 Payables Insight Report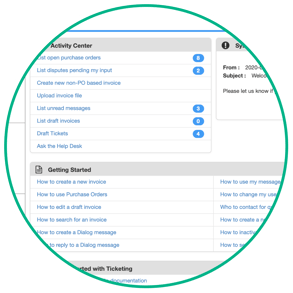 When you shift your processes to the cloud you get a wide range of benefits, including 24/7 end-to-end visibility, touchless invoicing, and faster payments with less work. It's important to make sure your AP provider is able to handle all types of automated transactions, such as PO-based invoices, non-PO-based invoices, and PO-to-invoice flips.
Other benefits of cloud-based solutions are that they increase process compliance and information security. Having all of your invoices flow through a single online process gives your AP department complete visibility into every payment and the ability to easily spot fraudulent activity. Also, with a built-in history of all actions and transactions taking place through the software, cloud-based solutions easily provide a full audit trail and mitigate your risk of fraud.
NOTE: If you have international vendors, it's important to find out early on whether your AP Automation provider is VAT compliant.
3. What is my profit potential and how do I calculate it?
"If you get Dynamic Discounting done right, you can expect to save $5 million—and free up an additional $250 million in cash—per $1 billion of spend." (Read more here)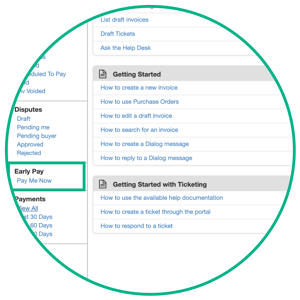 AP Automation solutions that enable suppliers to receive early payments in exchange for a discount can greatly enhance your AP Automation ROI. Be sure your provider can build in pre-approved terms—on a sliding scale—in advance. This gives your suppliers the flexibility to accept discounts on a transaction-by-transaction basis, whenever it makes the most sense for them. (Pro tip: Suppliers are often more willing to accept discounts at the end of a quarter or at the end of a fiscal year.)
4. How will your AP Automation solution affect my supplier relationships?
"Your solution should provide suppliers with all the tools they need whether they're fully web-based, fully electronic, or somewhere in the middle."
—Billy Williams, Chief Technology Officer at Direct Commerce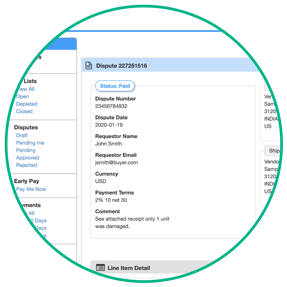 Any AP Automation solution should be a win-win for your organization and your suppliers. Suppliers may put up some initial resistance, but if the platform you choose gives them the resources they need to become self-sufficient they quickly become big fans.
For example, no supplier enjoys making a phone call, sending an email, or waiting for your help desk to respond to a complaint. By automating your dispute management processes, discrepancies are flagged and suppliers are empowered to go in and fix the issue on their end with ease and efficiency. This not only frees up your resources, but also leads to the total elimination of dispute backlog in a matter of months.
Your AP Automation provider should aim to create a transparent environment for you and all of your suppliers, while giving them the ability to quickly fix issues within the supplier portal. This approach not only saves you time and money, but will get your suppliers paid faster and increase their satisfaction with your partnership.
5. Can you walk me through your reporting and analytics features?
"Reporting is one of the most highly valued features of an AP automation tool, with over 90 percent of organizations deeming it as important...Many departments adopt AP software to increase visibility into their operations and to give them a more real-time look into their payments, and reporting is an important component to accomplishing that goal."
—LevvelResearch 2020 Payables Insight Report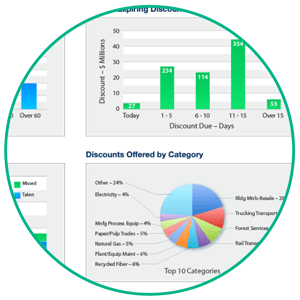 When choosing an AP Automation provider, it's important to understand the extent of available reporting and analytics features. Some solutions only provide basic data exporting, while others allow you to create custom dashboards and tailored reports. At Direct Commerce, we provide robust capabilities at no additional charge: our goal is to give you lightning fast reporting from day one, so you can fully visualize, understand, and track the metrics that matter most to the people in your department and other business leaders. When you speak with different providers, make sure they have the reporting and analytics functionalities necessary for your organization—and that they don't come at a premium.
Need some help with your AP Automation search?
We'd love to help you develop a better understanding of what to look for in an AP Automation solution, and the questions you should be asking providers. Contact us today and we'll walk you through the key features that will make the greatest impact for your company.