AP Supplier Portal Software
The Direct Commerce Supplier Portal delivers clarity and control for your teams and for your suppliers. Our technology allows you to align all stakeholders with one central, unified experience for internal and external stakeholders.
Your team and your suppliers can access real time information on all relevant transactions including purchase orders, invoices, payments, disputes, vendor data, and any other information relevant to the buyer/vendor relationship and transactions.
Data is available for users 24/7, and access to data is configurable according to your business requirements. All data is structured and unified providing supplier and buyer alignment across your business processes.
Self-service tools eliminate inquiries and enable users to work with efficiency and confidence.
Why You Need a Supplier Portal Now
Large enterprise AP and Procurement processes can involve hundreds of millions of transactions per year. Each transaction is an opportunity for progress or an opportunity for delay, frustration, and disruption in your business.
Every piece of paper, every phone call, every PDF, and every email exchanged between you and your suppliers is an opportunity for errors to enter the financial system which can result in slower time-to-pay, over/underpayments, massively longer dispute resolution times, and fractured relationships as suppliers and buyers amass their own disparate data in separate, disjointed processes.
Additionally, with millions of transactions in process, your AP team spends enormous amounts of time simply fielding inquiries on invoice status, dispute status, payment times, and other updates on business processes.
Finally, without alignment and data clarity, enterprise decisions feel rudderless and ill-informed because transaction data feels impossible to bring together at scale. With transaction data stored in paper, PDF and emails, moving that data into a central system is a colossal effort, and your key decision-makers are forced to use incomplete data to make critical business decisions.
How Does the Supplier Portal Work?
By bringing your supplier transaction data into one central data repository, The Direct Commerce Supplier Portal unifies data and aligns your teams and your supplier teams. Supplier inquiries are greatly eliminated and errors in data can be identified and brought into compliance using tools enabled by the supplier portal. In setting up your portal, we'll work with your team to make sure data flows to and from relevant systems within your architecture. Immediately your team will benefit from unified data and a unified experience that brings all stakeholders together.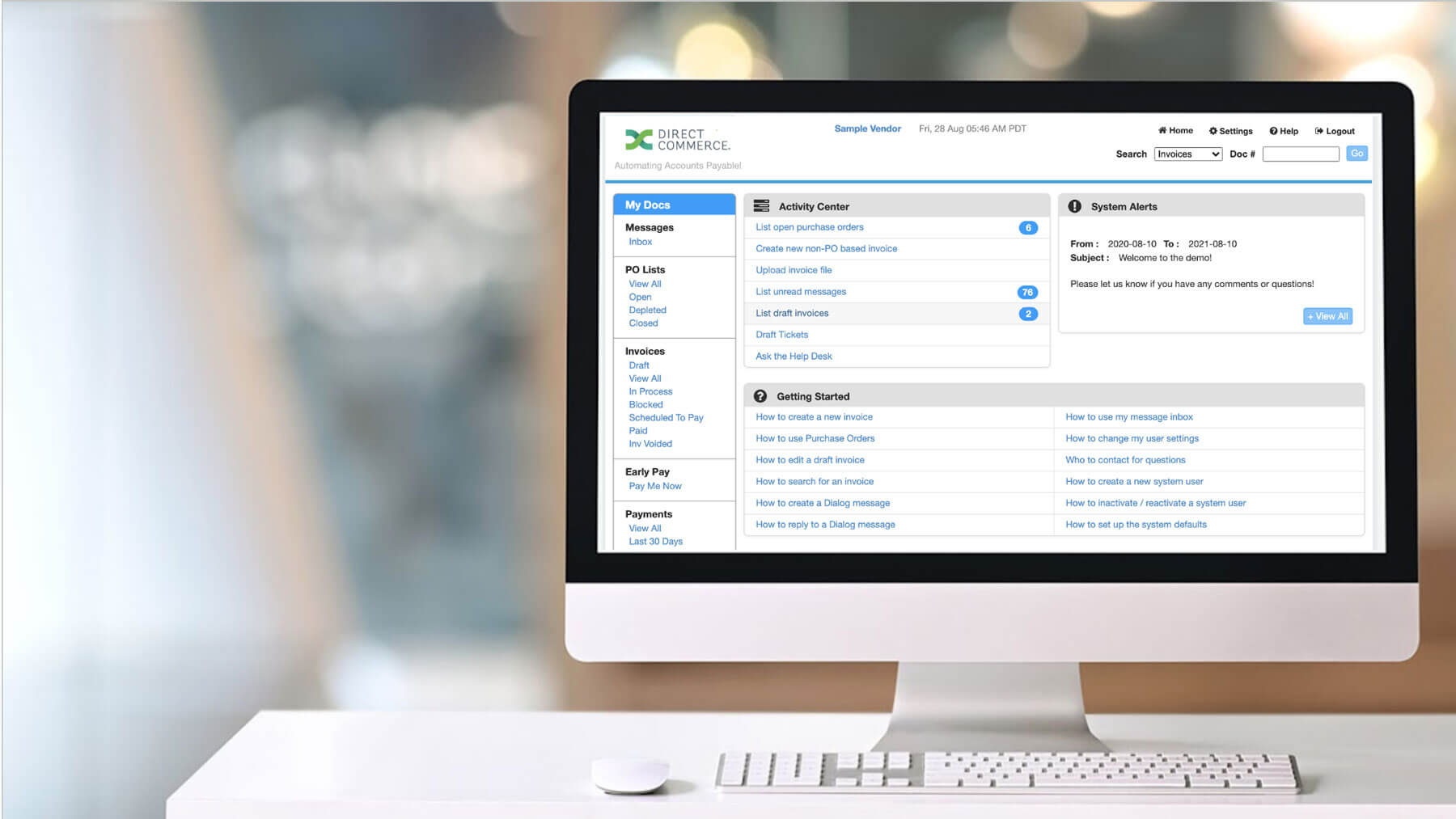 The Direct Commerce Supplier Portal Unifies Your Business Process
Our Supplier Portal brings all supplier engagement into on central environment, unifying your process around transactions like:
Invoices
Purchase Orders
Goods and Services Receipts
Payments
Variances
Disputes
Discounts
Reporting and Data Analytics
Benefits of a Supplier Portal
With the Direct Commerce Supplier Portal in place, users experience:
Self-service capabilities for all transactions and inquiries, with simple-to-use interfaces and consistent display of data

Vast reduction in disputes and inquiries as a result of unified, available data

Historical access to all transactions, following business rules, including document history recording all user collaboration on invoices, POs, disputes and more

Faster supplier onboarding

High supplier satisfaction leading to industry-best supplier adoption rates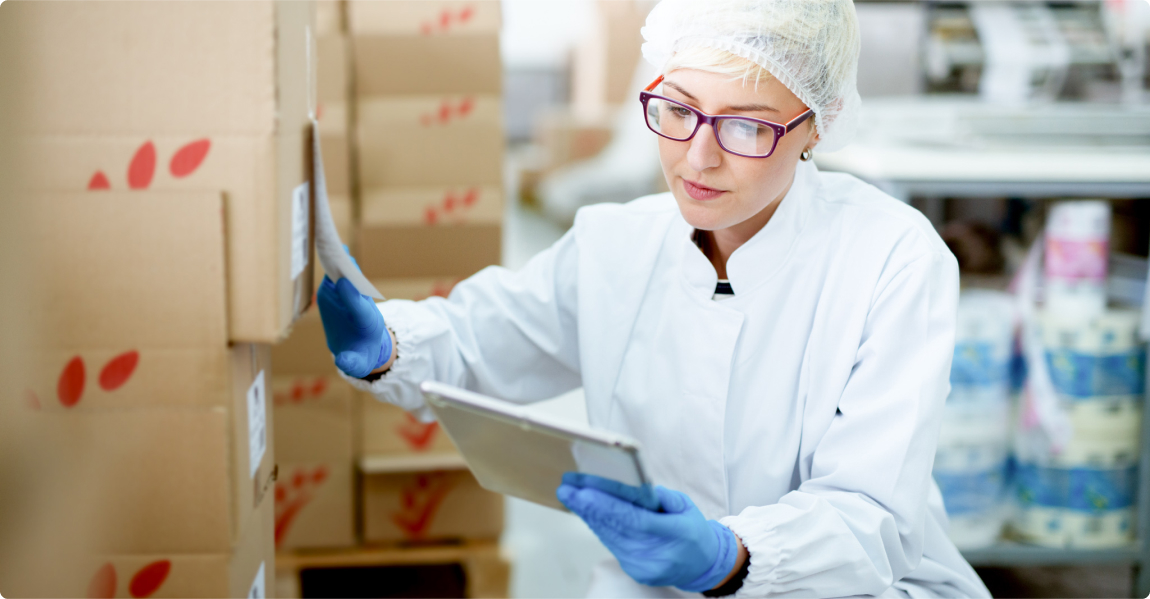 Key Features of Direct Commerce Supplier Portal
Direct Commerce drives results through features that deliver value to you and your suppliers within our Supplier Portal.
Structured Collaboration
With a user interface built for supplier self-service, our Supplier Portal can be configured to meet your business requirements and guide process compliance through structured collaboration and automated communication.
Structured collaboration begins on the entry screen of our portal where your team members' tasks and most relevant data are displayed, clearly indicating what needs the most attention and what is coming up in their work queue. Your users will also find all data relevant to your suite of DCI solutions.
Communication is structured through the UI, including System Alerts, error messages, instructions and a help section full of relevant articles on how to use the system. Automated communication like notifications, time outs and escalations are configurable at the admin and user levels.
All of these features eliminate varied and disorganized collaboration methods like email, mail and phone calls and instead offer automated and self-service tools to interact and transact with suppliers.
User Configurability
At the admin level, admin users are able to add internal users per their business rules. They are able to configure user roles, permissions and workflows, depending on their suite of DCI solutions. Certain configurations, like workflow configurations, can be tracked in a document history to display changes in workflow over time.
Individual users have a variety of ways to configure their user experience including indicating contact and notification preferences, reporting schedules, etc.
Central Data Repository
Our supplier portal unifies data and uniformly structures the display of that data so that all users have access to the same information. This allows users to self-service their own inquiries around things like payment schedules or invoice statuses.
All documents in the Supplier Portal are displayed with a document history that includes both manual and automated transactions. So, for instance, an invoice may display in the document history the date of submission, date of approval and schedule of payment as well as relevant users who performed each task. A dispute may include submission date, reviews, and requests for more information.
All users may not have access to the same data in the portal (for example, an admin user would be able to see all payments to all suppliers while a supplier AR user would only see payments to their business), however, all data is unified, follows the same business rules, and is accessible 24/7 to relevant users.
What is a Supplier Portal?
A Supplier Portal, sometimes known as a Vendor Portal, is a digital interface that allows you to interact, transact and communicate with your suppliers while maintaining unified data and compliance across your business processes.
Why do we need a Supplier Portal?
The Direct Commerce Supplier Portal will allow you to drive business efficiency, accuracy and speed through unified data and communication throughout your supplier transactions.
What kind of suppliers use a Supplier Portal?
The right supplier portal will allow you to transact with all of your business' suppliers, keeping them in compliance across your business processes.
What goes in a Supplier Portal?
The Direct Commerce Supplier Portal can display all of your supplier transactions including purchase orders, invoices, receipts, disputes, payments and more. Your interactions across your business process can also be displayed through document history ensuring that everyone has the same information about a transaction and its history.
How to use AP Supplier Portal software?
An enterprise level AP Supplier Portal should come with an onboarding service that brings your team into alignment so that your team can get to work on day one. Your users should also have access to a knowledge base and a customer
success team to ensure compliance and support. When assessing a Supplier Portal for your company make sure you understand how onboarding for your team and suppliers will work, as well as your provider's methodology for support.
What are the features of Direct Commerce's Supplier Portal?
24/7 access to relevant documents and data
User self-configuration tools
System Alerts allowing clients to communicate to all users simultaneously
Structured transactions with automated guidance, form validation and defined transaction requirements
Structured data which drives enterprise compliance on every transaction
Automated communication including notifications, time-outs and escalations
Centralized support including self-service help section and technical support
Operational Infrastructure Support
Quick search and advanced search capability
Centralized document history and tracking
Data download facilities
Comprehensive reporting, including aging information
Multi-level managerial roles