Corporations have lofty expectations of their shared services teams. Gone are the days of justifying projects based on cost reduction only; today, shared service leaders are being asked to reduce costs, improve processes, and drive revenue growth.
To accomplish these demands, Shared Services Centers (SSC) must partner with their business units. They need to create value by optimizing processes, improving data quality, and instituting sustainable change with renewed focus on service excellence. In order to enhance its performance, your SSC needs to 1) align on common goals with the business units, 2) build a team culture across departments, and 3) connect disparate processes. Let's dig into these topics a little further.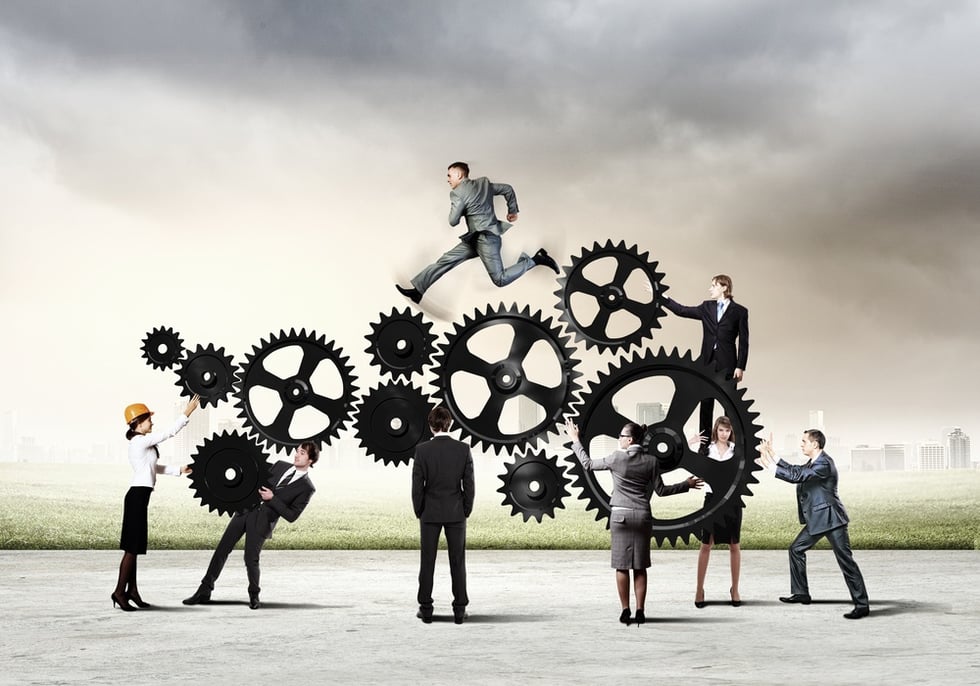 1. Align on Common Goals
Your supplier relationships can be a key competitive advantage – these partnerships directly impact your product's quality, costs and delivery. In addition to competitive advantage, your company can save significant costs by eliminating supply chain inefficiencies.
Common problems that create inefficiencies across a Shared Services Center include:
Incorrect supplier master data
Poor communication with your suppliers
Unclear purchasing and invoice policies
High volume of invoice exceptions
Late or unapproved payments
Tackling these problems head-on and driving alignment between Procurement, Accounts Payable, and Finance teams is vital in getting the most from your supplier relationships.
Create KPI's that measure efficiency so these three groups align around a common purpose. For example, KPI's around completeness of your supplier master data, the number of calls/emails from suppliers, the number of invoice exceptions processed, total cost per invoice, percent on-time payments, and volume of early discounts taken are all metrics that should be discussed across your departments and can serve as a focal point to deliver competitive advantage, cost reduction and accelerated growth.
2. Build Team Culture / Remove the Silos
Collaboration starts by building a relationship with your colleagues across the hall. Sounds simple enough but organizational silos get unintentionally built between groups. As a leader, you need to create a forum where Procurement, AP and Finance can get together and have productive, positive conversations about growth.
As the great Henry Ford said, "Coming together is a beginning, staying together is progress, and working together is success."
Growing a goal-oriented team culture across shared services will depend on how collaborative your organization is; removing the silos and building a team culture may be as easy as going to lunch together or you may need to take bigger steps like kicking off a formal strategic planning program within the group. But as a leader, you need to have this culture so everyone feels like they are "in it to win" and are energized when they walk in the door each day.
3. Connect Disparate Processes
Aligning goals across Procurement, Accounts Payable, and Finance opens up the communication channels between these groups and enables process improvement. With that foundation, the next important component is connecting disparate processes such that you can accelerate efficiency and drive growth through automation. Here are four areas that should be connected.
Supplier Service
In today's world, people want to get their questions answered quickly. And, most people cringe if they actually have to pick up the phone to ask someone for help. This sense of dread applies in the B2B world as well. Best-of-breed supplier self-service tools are now easy, fast, and accurate. So, analyze your current supplier service capabilities and consider a Supplier Portal where users can access data 24/7 to look up information, query document data, and communicate with you. Today, self-service portals are a "must-have" interface that enable better visibility and communication between your team and your suppliers.
PO and Invoice processing
PO-based invoicing has become the gold standard for quantifying the value of a supplier's goods or services. This important agreement, the purchase order, keeps your suppliers aligned with your business needs. In addition, you can automate your PO-based invoicing so the invoice meets your business rules before going into your ERP system. This automation facilitates touch-less invoice processing so your team can focus on higher value-added activities like analytics.
Approval Workflow
Any approval workflow process that is manually done can quickly become complicated and a liability – wasting time and money due to human error. Consider moving all manual workflows done by people to an automated workflow solution. Everything from customer service support to paycheck processing can become smoother, and cheaper using automated workflow tools.
On-time Payment
Many suppliers offer discounts on their products and services if your company will pay early. However, inefficient supply chains seldom are able to take advantage of these offers. If you connect your PO, invoice and workflow processes together using automated tools, you can then track and monitor supplier discounts. There can be a gold mine of savings found when you consider using a Dynamic Discounting solution or Supply Chain Finance.
Optimization Overnight
Optimization overnight is not going to happen. It takes time and people have short attention spans – so how do you tackle that conflict? The answer is to have a clear vision, align with your business units and look at organizational structure to enable systemic and long-term change.
Establish stakeholders and governance structures like a steering committee across your SSC. Then, set up your team to support quick decision making and collaboration while they optimize end-to-end processes. Use technology to your advantage and make sure the journey is fun – then you will get there!