By The Direct Commerce Team
Put an end to paper invoices and transform your entire AP department.
The current public health crisis has put a spotlight on the need for eInvoicing. With offices closed and employees working from home, collecting paper invoices and getting them to the right people for processing is more difficult than ever. Imagine how much easier it would be if you had a single, secure hub for gathering and processing invoices without shuffling hundreds of thousands of pieces of paper.
In this, the last of our four work-from-home strategy sessions, we encourage your financial team to discuss the benefits of eInvoicing. This is NOT the same as invoices by email, which still requires time-consuming, error-prone manual work. With eInvoicing, your suppliers put their data directly into a shared system (that integrates seamlessly with your ERP), so invoices are readily available and easy to process in a matter of hours—not the standard 12 to 15 days.
eInvoicing is really the cornerstone of AP modernization and working capital optimization. Simply put, eInvoicing lays the foundation for the other topics we've covered in this strategy series: receiving discounts from suppliers, streamlining dispute management, and improving supplier relationships.
Use the recommendations below as a starting point for developing your eInvoicing strategy. And be sure to read "The Business Case for AP Automation" to calculate your eInvoicing ROI.
Three Strategic Moves You Can Make Right Now
Here are three things to consider as you make the important move towards a paperless, touchless environment:
1. Put Your Paper Problem in Perspective
How many invoices do you deal with each month? From how many different suppliers? If you're like many of our enterprise clients, you're processing between 90,000 and 540,000 invoices a year and spending up to $20 processing each one. Use the worksheet below to see how much you can expect to save with eInvoicing: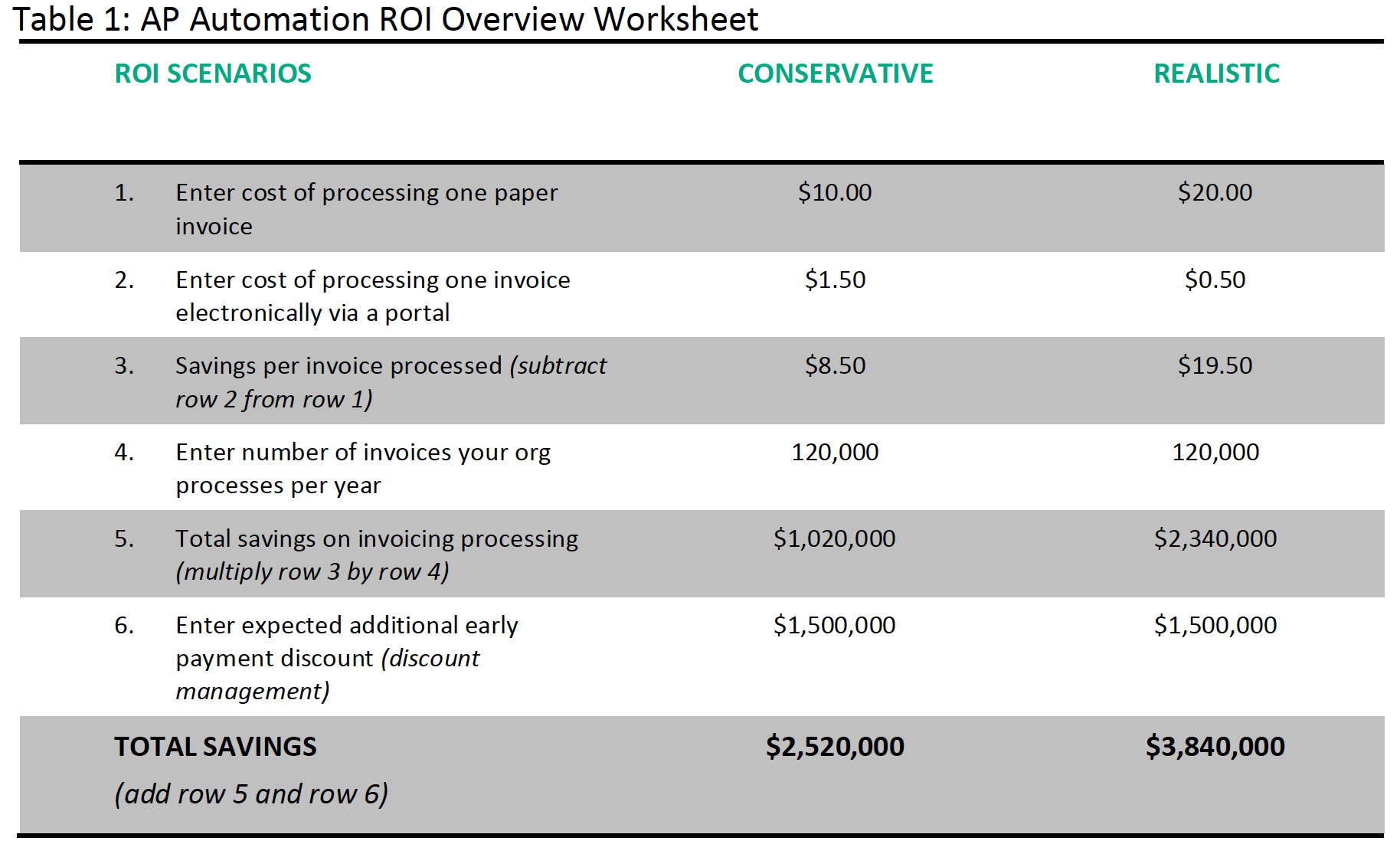 For a more accurate picture of eInvoicing business value, you can really go granular and consider costs associated with mailroom operations, validation, exceptions, approvals, archiving/storage, disputes, compliance, and supplier support. Read our whitepaper on building a detailed ROI calculation that will make a compelling business case for eInvoicing.
2. Understand Why eInvoicing Is Good for Your Suppliers
You might get some pushback from suppliers who think your new eInvoicing system is just another hoop they have to jump through to get paid. If you make it clear that eInvoicing will empower your suppliers to track the progress of their invoices through the reconciliation and approval process, make it much less frustrating to resolve disputes, and provide opportunities to reduce days sales outstanding (DSO) through discounting, they'll come to love it as much as you do. Certainly, suppliers who currently participate in eInvoicing programs feel fortunate that they've escaped the kind of payment disruptions the coronavirus pandemic may be causing other suppliers.
3. Create an Onboarding Plan that Works
Communicating the benefits of eInvoicing to suppliers is critical to ensuring the 90–100% adoption rates that make eInvoicing pay off. An effective supplier onboarding program includes awareness campaigns, clear communications and training, and strong policies and procedures. Direct Commerce has a proven onboarding methodology that targets your top suppliers immediately and gets you close to 100% supplier participation as quickly as possible.
As we all begin (or at least think about beginning) our transitions back to business as usual, it's a great time to lay the groundwork for eInvoicing. Feel free to reach out to the experts at Direct Commerce: email sales@directcommerce.com or call 415-288-9700 and we'll arrange a free consultation or demo.