By The Direct Commerce Team
To claim the full ROI you're looking for, you need a SaaS provider with a customer service methodology that can unleash your IT solution's full potential. Find out what to look for in a new provider and what to expect if you're looking for World-Class AP Automation. Read our full interview with Direct Commerce's Vice President of Customer Success, Chris Simpson now.
---
"Now is the time for customer success and an elevated level of service. There are too many organizations that have sidelined it, and those organizations are not going to succeed in the future. The ones that are focused on customer success are the ones that are going to be long standing. Direct Commerce has always had that foundation, but we're building on that, and making it even better."

-Chris Simpson, Vice President of Customer Success
In enterprise IT, every solution you invest in has an incredible impact on the success of your business. You need solutions that are equipped to deliver the full value they promise. We talked with our Vice President of Customer Success to find out why an approach like ours at Direct Commerce unleashes the full potential of your AP technology. Read the full interview below.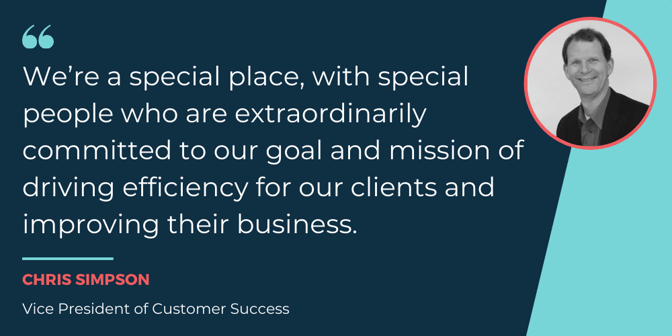 How would you describe the level of customer service offered by Direct Commerce?
Chris Simpson: We provide world-class customer service. We are striving to be the best in the industry. The key is that we really look to have a one-on-one relationship directly with our client. From my personal experience, at larger companies, if a customer has a challenge or a problem, they often have to go through multiple different levels and then get shuffled over to a third party system integrator, before they are finally able to get to the person who can help them. Meanwhile, at Direct Commerce, you get direct access to everyone in the organization—from your project manager all the way to our CEO. So, when our customers need to make a change - to solve a new challenge or take advantage of a new opportunity, they know exactly who to go to and get the help they need right away.
There seems to be this assumption that the size of the AP Automation provider dictates the size of AP Automation implementations they can handle. Can you speak to that?
CS: It's not the size of the organization that is the driver, it's the experience and talent of the team. At Direct Commerce we have over 20 years of experience in this space and we're working with some of the largest organizations out there and solving extraordinarily complex problems.
I like to think of large organizations as a large tanker at sea. In order to turn that massive ship, you turn the wheel but it takes a very long time for that tanker to actually turn. Whereas, a smaller organization, which is more like a speedboat, has the ability to maneuver much more quickly, easily and nimbly. The reality is, in today's business environment, you need a partner who is a speedboat, who can quickly and easily adjust to your rapidly changing needs.

Why is direct access important to clients?
CS: The reality is there are always going to be challenges in your enterprise's IT environment, that's just the nature of the beast. So as a client, what you want to know, is if there is a challenge, do I have someone that I can call? I want to know exactly who I can reach out to, and have the confidence and trust that that person is going to be there to get the problem resolved quickly and efficiently.
At Direct Commerce, our clients know that they have direct access to someone who can help them; They aren't going to get bounced around to a ticketing system or a help desk before getting a response. Our clients have direct access to everyone at Direct Commerce, including our leadership team when they need it.
How has customer service evolved over the past year?
CS: The pandemic and the shift to working remotely has forced us into a complete virtual communication environment--we're all sitting in Zoom meetings constantly. I think people are now more than ever looking to build personal connections. At Direct Commerce, one of the things that we focus on is building this connection with our clients through frequent video check-ins to ensure all needs are being met. This past year has been a whirlwind, so we want all of our clients to know that we are here supporting them as a partner.
What values do you believe are most important to deliver the best customer service experience possible?
CS: For our team, I am looking for people who feel passionately about customer success and really put the client at the forefront of what they do. They are client-centered in their approach and practice empathy, trust, and respect, which are some of our core values. We seek to empathize with our clients, and not only understand their business needs, but also the impact that AP Automation is going to have on them. Then we focus on how Direct Commerce can bring products and services to them to really improve their processes and efficiencies.
Trust is critical in that relationship on both sides and in both directions. Our customers need to be able to trust us to follow through on the things we promise or say we're going to do, and respond to them quickly with updates and changes. The ability to listen and seek to understand what our clients are trying to accomplish is integral. Too often when we have really cool technology, we want to talk about it and tell you about all of the functions and features and cool stuff that we can do. But at the end of the day, a successful business partnership is built on the ability to listen and truly understand. And then through that understanding, bring the appropriate solutions to the forefront.

What should clients expect from your team during a new implementation with Direct Commerce?
CS: They should expect that we are really seeking to not just understand the what, but the why. Why are we doing this? Why are we implementing this workflow? What business impact is that going to have on the client? We will be consultative, bringing recommendations and best practices to the table on how we can improve their business and their efficiency. I think they should expect that we'll deliver on the promises we make to them in terms of quickly and efficiently implementing a solution and driving ROI.
In addition to understanding their business and implementing a solution that meets that need, we are going to go above and beyond any other provider in the industry to ensure that we get their suppliers onboarded and using our solution. I love what our CTO, Billy Williams said, "You can build the greatest thing there ever existed, but if you don't have a team, organization, and diligence for rolling it out, it will be underutilized." I really think that that's true. That's one of the reasons why we actively engage in onboarding campaigns with real resources. We're not just sending out emails, we're actually executing calling campaigns and reaching out on the client's behalf to ensure that suppliers understand the value of our system to them, and to the client. I think that's an important differentiator.
CS: #1) How are you, as my provider, going to help me to ensure that my suppliers get onboarded? Your provider should be the one running the onboarding campaigns and doing the outreach; that should not fall onto the client.
#2) How easily are you able to accommodate my specific business needs and requirements? Is your platform composable and able to meet custom business needs? Oftentimes you're going to find out that they're limited in their ability to do that. And, you won't find that with Direct Commerce because we are really built on the promise that we are going to modify the system to meet your needs.
#3) How easily is your system able to integrate with other third party systems? How composable is your solution such that, if I need to change my ERP at some point, can I unplug this system and plug it into a new ERP without implementing an entirely new AP Automation system?
Anything else you'd like to add about your experience at Direct Commerce?
CS: We're a special place, with special people who are extraordinarily committed to our goal and mission of driving efficiency for our clients and improving their business. And, we do that not only by understanding the business but also by developing extraordinarily long lasting relationships with our clients—becoming that trusted advisor that the clients can reach out to at any point to solve those business needs.
-
At Direct Commerce, we believe that you should be connected directly to your technology, to make the changes you need when you need them, and your team, to help you at every step of the way. No automated help desk, no outsourced services, no long communication delays, and no getting passed along from one person to the next. You should expect to receive a focused, reliable team dedicated to your success.
If you're ready to experience world-class customer service and get fast ROI with AP Automation, contact our team today. We'll walk you through the substantial impact direct access will have on your organization and our full onboarding process. Let's build the future of AP Automation together.