While the accounts payables department has often been seen as an area of the business that is resistant to change, numerous factors have led many organizations to adapt how they interact with their suppliers.
The COVID-19 pandemic has led to new ways of working, forcing businesses to find new ways to streamline their processes by removing tedious and manual processes in favor of automation. Meanwhile, employee burnout has also created the need to eliminate mundane, repetitive, and frustrating tasks to keep personnel engaged, especially among companies with remote teams.
In this blog, we'll take a look at a number of trends that are transforming the way enterprises are collaborating with their suppliers and maximizing their AP departments, and how you can implement these trends into your own organization to get ahead.
1. AP Automation - Beyond Invoicing
Transforming your AP department into one where invoices flow through without the need for any manual intervention is a start, but AP automation doesn't end there.
One area where automation can make drastic improvements to processes is in dispute resolution. Dispute resolution, or dispute management, provides a simple way to eliminate costly dispute handling, improve supplier relationships, and shorten the time it takes to resolve AP disputes. The Direct Commerce Dispute Resolution solution allows suppliers to dispute payments using forms to capture dispute-related information exactly as you require, and the AP department can quickly review related information to approve or deny disputes. Automatic status notifications and audit trails eliminate unnecessary back and forth to get questions answered on dispute status.
Another trend in AP automation is an increase in the use of dynamic discounting to drive ROI within your AP process. Dynamic discounting allows for early payments to suppliers in exchange for a reduction in payment amounts, depending on the early payment date, the amount accelerated, and remaining cash balances. This provides a win-win in faster payments for suppliers and lower costs to the buyer.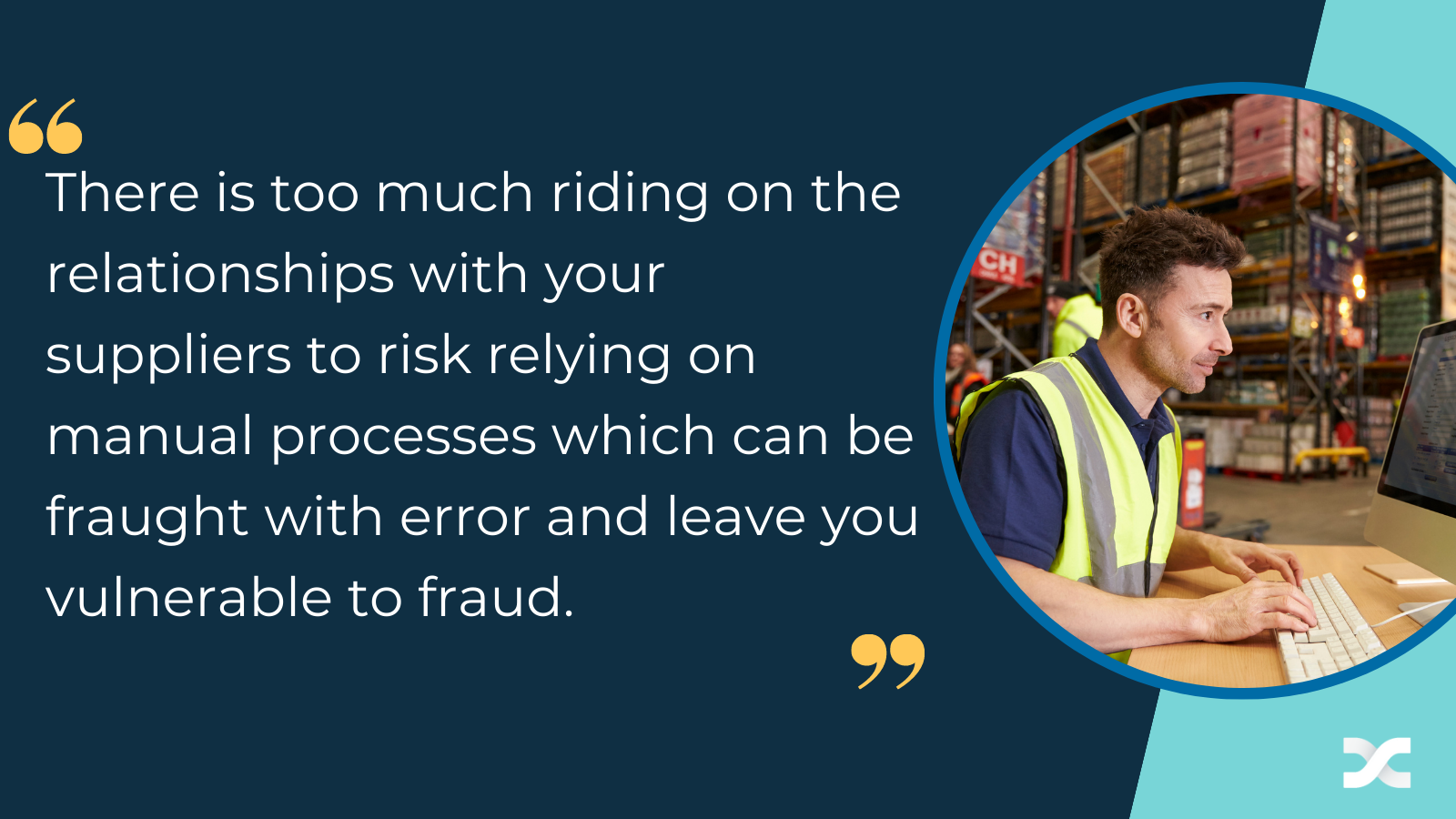 2. Supplier Change Management
There is too much riding on the relationships with your suppliers to risk relying on manual processes which can be fraught with error and leave you vulnerable to fraud. That's why many enterprises are implementing automated solutions within AP. And as you maximize your technology to eliminate risk and better collaborate with your supplier community, your team will need enterprise-ready strategies to drive adoption.
We discuss this topic in great detail in our white paper, Supplier Change Management: Driving Adoption During Digital Transformation. You'll learn change management strategies such as:
Mapping your key stakeholders and their wins.

Making your change management methods as self-serve as possible.

Embracing pushback.

Supplier support beyond onboarding.
Short on time? Get the key takeaways from our white paper in this one-pager here.
3. Composability
Rather than buying a full suite of products from one provider, more organizations are turning into composable enterprises, putting together their AP technology in a modular way by buying "best in class" solutions for each service they need.
As organizations evolve to meet the needs of their customers, they need technology that can scale with their customers and provide personalized solutions. A composable enterprise framework offers a path to these goals.
When buying a monolithic, full suite of products, inevitably some aspects may meet your expectations – while others will inevitably be subpar. By compartmentalizing software to fulfill key needs, organizations can better deliver business outcomes and adapt to their customers.
4. OCR and Intelligent Document Processing
The ultimate goal of many AP departments is 100% invoice automation – and the hardest part is often capturing paper, scanned, and PDF invoices. Methods like optical character recognition, or "OCR", is the electronic conversion of handwritten or printed text into machine-coded text. Solutions can automatically improve the document capture process with technology that includes machine-learning or AI, creating more value for your process. Once the data from an image is captured, it can be then displayed in a compliant, electronic format.
This automation of data extraction removes the manual processes that were previously needed – a human reading the document and manually entering data into the system. This old way of data entry was not only time consuming, but fraught with errors.
Intelligent document processing reduces bottlenecks in the data capture process, builds healthy relationships by improving data accuracy (reducing the need for disputes), and provides a clearer view of your company's performance by having all documentation digitized and searchable in a repository.
Read our white paper Starting Your Journey to 100% Invoice Automation to learn how Direct Commerce makes it easy for you and your suppliers.
AP technology leaders have to think critically about human intervention when it comes to invoice automation, with two sides of the spectrum – more heavy on automation, or more heavy on human processes. There will always be a need for human intervention – but where and for what purpose? Finding an AP solution provider that knows the space, what is possible, and what is necessary for your business is crucial to reaching your automation goals.
5. Government E-Invoice Regulations
Many governments are requiring a level of invoice oversight of your AP processes, routing invoices through a governmental portal or software and then back into your financial system. These checks and balances ensure tax compliance so that invoices can be used for VAT tax reclaim purposes.
Moving forward, this trend provides an advantage for enterprises that are digitally transforming their AP processes. As the governmental bodies require compliance through e-invoicing, this also requires your suppliers to get rid of their manual, paper processes in order to comply. This further boosts adoption of your automated processes among your supplier community.
However, it can also create a new set of processes and challenges for your organization which may be tricky to tackle. Find out how Direct Commerce helps these changes easier for you and your suppliers in our blog, Customer Service + IT Agility: A Conversation with Our VP of Customer Success.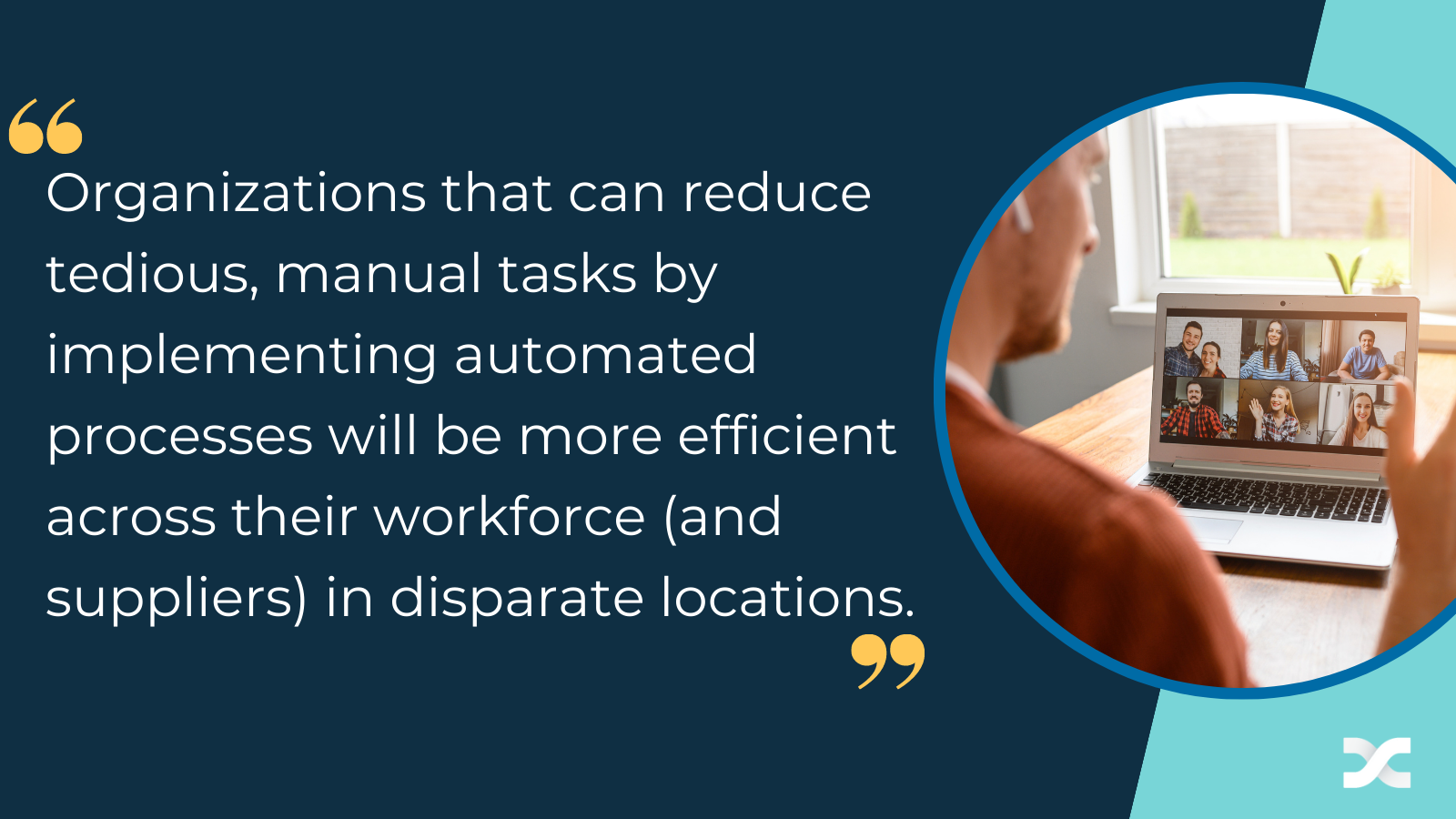 6. Work From Anywhere
The shift to remote work over the last three years due to the COVID-19 pandemic has increased the need for automated AP processes. No longer is remote work a perk; rather, it has become the norm in many organizations. Outside of their own employees, organizations are increasingly using outside contractors to fill gaps in their processes.
An increasingly remote workforce has added complexity to workflows and processes within the AP department, and manual processes that require human touch have proven to be inefficient in today's landscape.
Organizations that can reduce tedious, manual tasks by implementing automated processes will be more efficient across their workforce (and suppliers) in disparate locations.
7. Employee Burnout
There have been many names for it – with The Great Resignation being the most common – but anyway you slice it, employee burnout is on the rise.
AP departments have been hit incredibly hard with employees leaving their jobs, often citing the need for less stressful work. Often seen as an unloved part of the business, treated mostly as a cost center filled with taskmaster drones, this turnover in personnel has exacerbated flaws in AP processes.
This issue can be rectified by transforming the AP model into more automated processes. Turning manual tasks like data entry, invoice routing, and dispute resolution over to automated solutions provides more efficient operations and frees up workers for higher-value and higher-impact roles – particularly those that are much more hands-on with suppliers like onboarding and ongoing support.
Conclusion
There have been many changes to how AP departments go about their business the last few years, with a shift to more remote work, automated processes, and supporting an increasingly remote workforce and supplier community. Those who can adapt their business model to reduce manual work, leverage technology to improve their processes, and increase collaboration with their supplier community will be best positioned to get ahead in 2023 and beyond.