By The Direct Commerce Team
Learn what to expect from eliminating paper, and how it translates into an impressive ROI for your own organization.
Looking to show the ROI of AP Automation to your key stakeholders? We're here to show you—through a real customer case study—how to calculate your expected benefits, ROI, and choose a partner who can deliver results. With the right automation partner, you can save millions of dollars, valuable time and resources through AP Automation.
As Jeff Van Dyke of Gordon Food Services said, "The results are real." Follow these steps to get results that drive real ROI fast.
Step 1: Set your expectations in advance.
We recently co-hosted a webinar with Jeff VanDyke, Director of Shared Services at Gordon Food Service (GFS), where he walked us through his journey to AP Automation. Enterprise leaders such as GFS know that before meeting with providers, the first step towards automation is to calculate all the potential benefits for your organization. Jeff and his team began by creating a chart (below) outlining the value they needed from their AP Automation solution for themselves and their suppliers.

Image: Slide created for Gordon Food Service webinar presentation to showcase anticipated—and achieved—AP Automation benefits from partnership with Direct Commerce.
When you conduct your benefits calculation, make sure to consider all relevant data. We recommend reviewing the table GFS created and the following potential benefits to determine the full value list for your organization:
Eliminate mailroom processes
Automate invoice validation and workflows
Minimize exceptions for invoices that don't match the corresponding PO or present pricing discrepancies
Expedite approvals with automatic notifications
Reallocate support resources and minimize overtime
Shift from on-site invoice storage to the cloud
Built in compliance
Step 2: Calculate your ROI.
Do your key stakeholders need to see quantitative data before committing to AP Automation? e-Invoicing and dynamic discounting can lead to millions of savings per year when implemented correctly. Quickly determine an accurate ROI range for your own organization using the worksheet below from our white paper, The Business Case for AP Automation.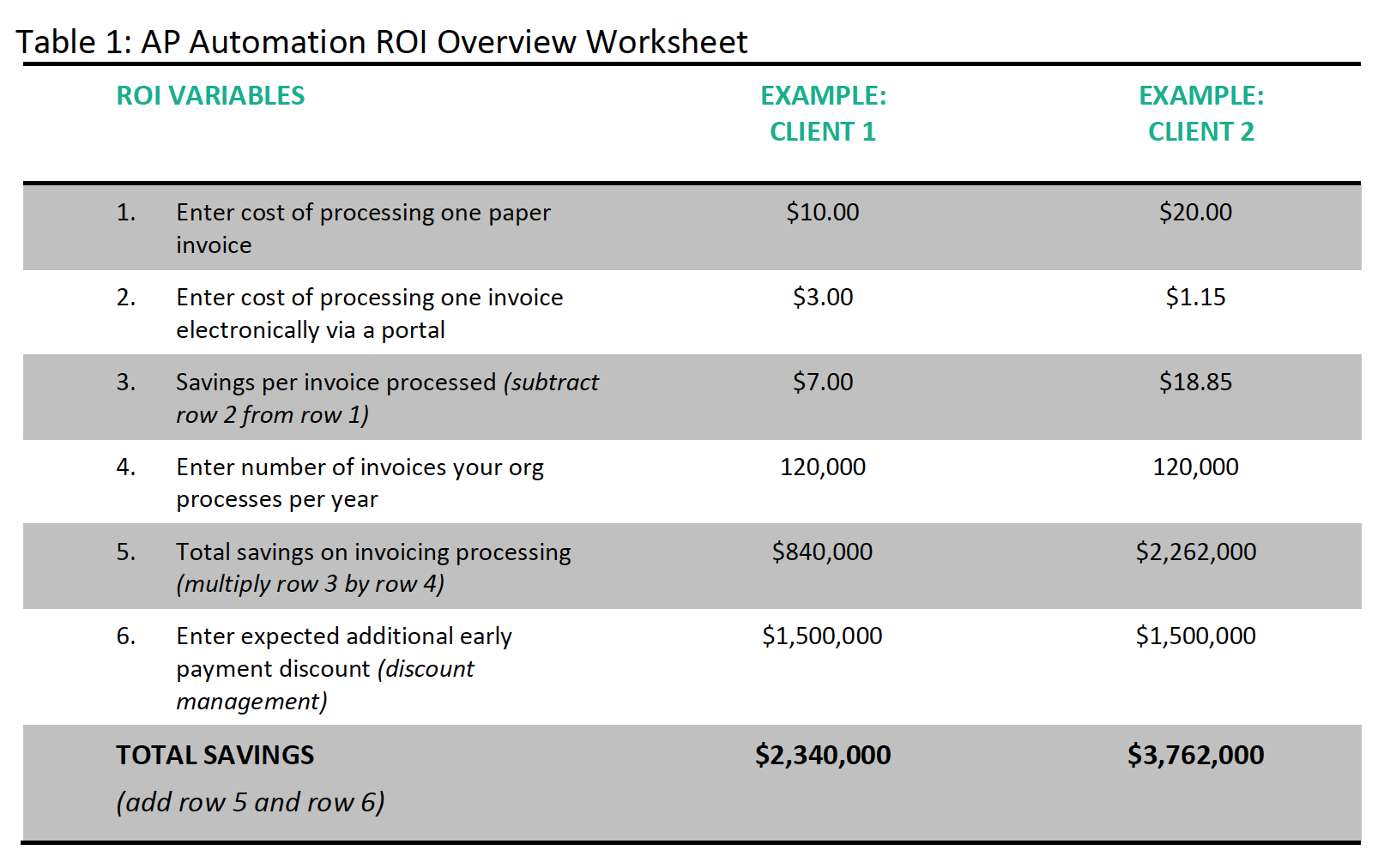 With AP Automation, you should see your ROI in a matter of months, not years. Bring your calculations when you meet with potential providers and ask them directly about their onboarding and implementation timelines so you know when to expect results.
Step 3: Determine what capabilities are vital to your success.
Before pursuing AP Automation vendors, determine the scope of your project and key capabilities. While all AP Automation solutions have unique strengths, you must select the tool that will provide your organization with the most value. To do this, determine the key capabilities that matter the most to your company, and then look for vendors that are competitive in those areas. For, GFS those key automation capabilities were:
e-Invoicing
Streamline processes, reduce touch points with suppliers and leverage automated business rules to process invoices.
Vendor Self-Service
Minimize emails, phone calls, and help desk tickets by empowering vendors to support themselves via a supplier portal that's easy to navigate.
Online Dispute Management
Ensure disputes over pricing, quantity or any other variance get routed directly to the correct person for rapid resolution.
As Jeff stated, "the bottom line is to deliver efficiency for both the supplier and us and, as a result, get timely approvals back to suppliers." When looking at the key capabilities your organization requires, also determine your bottom line—a great value statement to bring to potential vendors.
Step 4: Find a partner who can deliver results.
Once you know the benefits and capabilities required for your AP Automation success, meet with potential vendors who can deliver your desired results. When you engage with vendors who meet your criteria, ask plenty of questions. Understand any costs associated with the solution, their projected ROI timeline and if they can provide you with all of the benefits you calculated.
For their AP Automation journey, GFS chose to partner with Direct Commerce, leading them to achieve real results:
Adoption by more than 14,500 users across 6,834 suppliers in just 18 months
50% lower cost per invoice
Invoice turnaround time reduced from 12 days to less than 24 hours
Faster invoice approvals and increased discount opportunities
Streamlined dispute resolution and elimination of backlog
Weekly overtime reduction from 80 to 25 hours
Nearly 100% on-time payments
"The benefits are real. We really have gleaned value and continue to do so," said Jeff about GFS's achievements from their ongoing partnership with Direct Commerce.
We want your AP Automation to drive real results, just like at GFS. If you are struggling to calculate your benefits and expected ROI—or if you would like to ensure you didn't miss anything—we'd love to talk to you. Connect with our team today and we'll walk you through all of the steps you need to take to find your perfect AP Automation partner.