By The Direct Commerce Team
Read about our new research with sharedserviceslink (SSL) exploring the shortcomings of P2P automation—and the ways you can overcome them. And, download the full report of our findings here.
We all know that one size does not fit all, so why do so many enterprise organizations settle for a P2P automation solution straight out of the box? We partnered with sharedserviceslink (SSL) to research how well companies are automating and the shortcomings P2P automation users are experiencing today.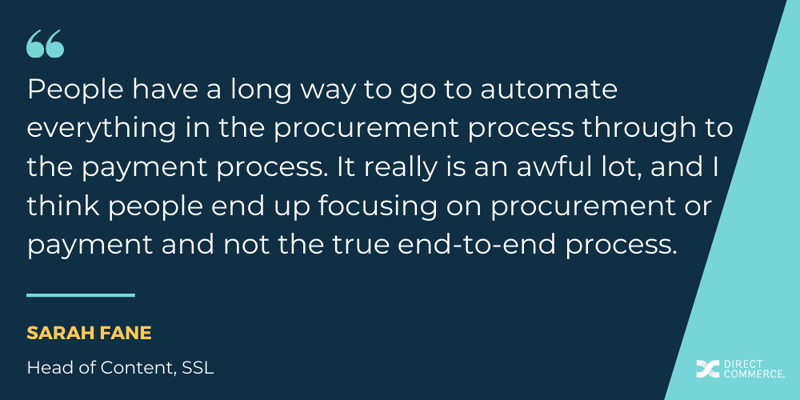 DCI Teammate Claire Knowles sat down with Sarah Fane, Head of Content at SSL, to discuss our recent research on the shortcomings of P2P automation. We also talked about her research role at SSL and what she believes we can learn from our new findings. Read our full interview below.
Want to hear more of our findings? Watch the recording of our webinar or download the full report here.
---
Researching P2P Automation
Claire Knowles, Direct Commerce: Can you share a bit about sharedserviceslink and your role there?

Sarah Fane, sharedserviceslink: My name is Sarah Fane, I am the head of content at sharedserviceslink, and I've been with the company since 2012. SSL exists to help Finance and Shared Services professionals better understand the challenges faced by Shared Services professionals and gives them tools, best practices and resources to help them save money and provide better service.
Shared Services professionals operate in their own companies, but don't necessarily get a lot of chances to benchmark their work with other Shared Services professionals. So we hope to be one of those points where they turn when they want to better understand what their peers are doing.
---
Pandemic Pressures on P2P Automation
The rise of remote work and the digital transformation of the past year has proven that P2P automation is no longer a choice, but a necessity to thrive in our current environment.
CK: From the research you conducted, does it seem like the pandemic shifted the priorities of P2P automation users?
SF: Absolutely. I think that before the pandemic, one of the biggest challenges facing digital transformation was that people were just reluctant to change. Getting people onboard and to understand the need for change was a major challenge. COVID-19 totally changed that.
Now everyone knows that digital transformation is one of the most important things that they have to do. It's been very evident through this disruption that people who have automated have fared a lot better than people who have not. Those who have automated have been able to seamlessly work from home and continue their operations whereas people who are still heavily loaded down with paper weren't able to do so—they had to make a lot more changes or scale back their business just to stay operational.
---
Are companies experiencing true automation?
CK: At Direct Commerce, when we talk about P2P Automation, that means more than just electronically uploading invoices, it refers to working with an ERP to streamline the approval and payment of an invoice or PO in our portal. It means looking at transactions across the P2P continuum and finding ways to innovate, automate, and drive supplier self-service. Do you feel like the majority of people who took our survey are experiencing true P2P automation?

SF: I can't say that I think people are experiencing true P2P automation. I think when people look at the full range of the procure-to-pay process, often people end up just looking at one or the other—either procure or pay. I think very few people are automating a truly end-to-end process.
I think we're seeing a lot more people, and a lot more providers, coming from either a procurement angle or a payment angle and then trying to tack on as much of the rest of the process as possible. People have a long way to go to automate everything in the procurement process through to the payment process. It really is an awful lot, and I think people end up focusing on procurement or payment and not the true end-to-end process.
The problem with focusing on either procurement or payment, is that it continues to silo your processes leaving your automation solution underutilized and your AP and procurement professionals overworked. Although, as Sarah said, "people have a long way to go to automate everything," we think there's no better time to start than now.
---
CK: Can you share with us one area of P2P automation we can expect to learn more about during our webinar/in the report?
SF: I think one really important element is getting suppliers using the tools that you choose and I think it's difficult to know that when you choose a solution. You can figure out how it's going to work within the walls of your organization, but getting suppliers to use your tool is really what's going to make it successful.

And that's one of the important links that we look at. The link between supplier adoption—usage of your tool—and ultimate satisfaction.
CK: Can you share with us one area of P2P automation where you think we'll be seeing increased demand for automation?
SF: Supplier self-service and supplier onboarding. I think one of the keys to making sure that automation is successful is making sure that your data is correct as well. If you have a really manual process that deals with supplier data, it's going to be out of date. Helping suppliers update their data automatically, helping them help themselves will not only free up Accounts Payable (AP) time, it will improve your master data and will have lots of positive effects. One thing we'll be looking at is supplier adoption, but supplier self-service I think will be a significant area of growth in procure-to-pay (P2P).
At Direct Commerce, we know that you need 80-100% supplier adoption to get the most value out of P2P automation. However, nearly half of those surveyed have less than 20% on board. So, it's no surprise that when we think about P2P automation shortcomings, supplier onboarding is at the forefront. If you're looking for ways to increase your supplier adoption immediately, check out our best practices blog here.
CK: As we go into the P2P market to talk about shortcomings, what do you think is most important for us to learn?
SF: I think one thing to realize is just how low levels of e-invoicing rates are at the moment. I think people will be surprised at how these large, multinational, enterprise organizations who have automated invoice processing for years, still don't have particularly high rates of e-invoicing. We dive into some of the factors behind that and some of the reasons to improve on that.
The bar for e-invoicing is quite low at the moment and I think the people who are really thriving in this area are able to take on a lot more value-adding work whereas the people struggling with high levels of manual invoices are taking up all of AP's time. In our webinar, we spend a fair bit of time on why these rates are so low and how we can improve them.
If you want to see all of the benefits you should be getting from your P2P automation solution, check out our value calculation blog.
---
Learn how you can avoid these P2P shortcomings and build world-class automation.
CK: Why do you recommend both current P2P automation users, and prospects, watch our webinar on the shortcomings of P2P automation?

SF: For people who are looking at automation tools, it's important to know where people are feeling let down and if you're actively looking to choose a solution provider, we address some of the things you may not be thinking about that you should be.
And, I think for people who have already automated, you are going to find kinship here—people who have automated and are still struggling with pain points. One of the things we address is that you don't have to be so dissatisfied with your solution. And, if you really like your solution but you feel let down in one or two categories, you don't just have to sit there and be dissatisfied. There are ways that you can use point solutions to tackle those. We discuss ways that even if you are invested in your solution, you can improve it and get other point solution tools that will make it better for you.
If your P2P Automation solution isn't meeting your exact business requirements, we have the composable enterprise solution that can fill those gaps. Learn about why a composable enterprise, and configurable solutions, are necessary to get you exactly what you need.
CK: Finally, if readers want to follow more of your research, how can they stay in touch?
SF: Sign up on sharedspace.digital for our weekly newsletter where you'll receive access to our best content for the week and information about our upcoming webinars.
-
Watch our webinar with SSL today to find out more about where current P2P automation users are experiencing shortcomings, how composable solutions can alleviate your pain points, and what you should consider when seeking an automation provider. At Direct Commerce, we believe you should experience the highest level of satisfaction with P2P automation and we'd like to show you how.
You can download our full findings here. And, contact our team today to discuss strategies for building the strongest P2P automation solution for your organization.