By Billy Williams, Chief Technology Officer, Direct Commerce
Industry innovator and Chief Technology Officer, Billy Williams, breaks down the four essential components for a successful discount management program.
Four key elements for effective supplier discount optimization
You've probably already heard of "dynamic discounting" and "discount management," phrases which are presented in glowing terms as offering huge cost savings.
Paying vendors early in exchange for substantial prompt-payment discounts makes great financial sense for almost all large companies. It's a no-risk proposition with a very large reward. After all, you're going to pay your suppliers anyway, so this merely adjusts payment dates and amounts.
But implementing a successful dynamic discounting solution takes detailed planning. After all, a sub-optimal approach can make a big difference – with lost opportunities amounting to many millions of dollars per year. That's why you'll want to address four elements so you can get it right the first time.
1) Negotiate discounts with top spend suppliers
Some suppliers would prefer that all payments be accelerated. It's best to identify those suppliers early to make sure their vendor record and all POs are set up with the payment terms they prefer. This ensures that all payments made to these suppliers are eligible for some discount.
During any sort of vendor rollout (for example implementing a new vendor portal, electronic invoicing, or migrating suppliers from paper checks to EFT), it's best to ask these discount-related questions as you're planning these vendor rollouts.
It can be incredibly difficult to roll out a system to tens of thousands of suppliers. Often you may not even have basic contact information. And when you do, it can take time to identify the right people in the organization who can discuss or approve specific discount rates, etc.
That 80/20 rule likely applies, with 80 percent of your spending going to 20 percent of your suppliers. That's why it really makes sense to create a list of vendors based on dollar volume and contact the largest ones first. This way, you cover most of your spend -- usually involving just a few hundred suppliers that represent the lion's share of buyer spend.
Our surveys show that about 60 percent of suppliers are not interested in early-payment options, but that the remaining 40 percent can include some very large suppliers. (Even the largest companies in the world offer early-payment discounts to their customers!).
Best Practices Note: Your procurement organization may want to get involved in any discussions about payment terms. If so, it's best to include them in your communications, planning, and rollout so they become your ally instead of your enemy. Procurement teams can also be extremely valuable in talking to vendors to ensure that your desired processes are written into supplier contacts.
2) Give suppliers flexible electronic invoicing tools
When you receive invoices electronically, you can more easily pay on time – or even earlier – than when you receive paper or emailed invoices.
When you take paper, you take problems, too. It's very common for invoices to take 30 days to be routed from "the field" back into a centralized department.
With electronic invoices, suppliers can be prompted at the time of invoice submission via "pay me now" screens to remind them that they can select improved payment terms and have those invoices processed immediately. Some suppliers who normally bill on a "net 30" basis may choose to select "2/10 net 30" terms for some of their invoices. Online eInvoicing tools and automated interfaces should allow and even encourage suppliers to select discounts like these before they submit their invoice.
Best Practices Note: Not all ERP systems can be set up to accept payment terms on invoices. Work with your IT department to make sure that your financial system is flexible enough to accept terms on an invoice-by-invoice basis. Ideally, you would also have a "best-of" terms selection in your payment process to select the ideal terms from the PO, invoice, and vendor record.
3) Allow suppliers to offer larger discounts after payment is scheduled
Suppliers can change their minds even after submitting an invoice, deciding later to offer a larger discount. Online discount management tools make it easy for suppliers to have visibility into their invoices and payments, and send you early-payment "offers" to provide a discount in exchange for earlier payment.
Your discount management tools should allow suppliers to select ideal payment dates for invoices and amounts in a way that is easy to understand. Suppliers should also be able to access information on any outstanding credits/adjustments that may cause their "actual" payment to be less than they expect.
Best practices Note: Not all financial systems can alter scheduled payment dates and amounts after they have been scheduled. Make sure that you have a way to accept "post submission/post scheduling" discount offers from suppliers.
4) Help internal teams monitor, analyze, and manage early-payment offers
Wherever possible, automate processes so that users can work more efficiently. "Timeout" tasks in workflows, automated reminders and escalations, and user-defined vacation schedules can keep the system running smoothly and notify the right people when discount offers are about to expire.
With analytical tools, managers can see where discounts are being offered--and where they are being missed--so that system parameters (such as target discount rates) can be adjusted at a global level or fine-tuned for specific suppliers.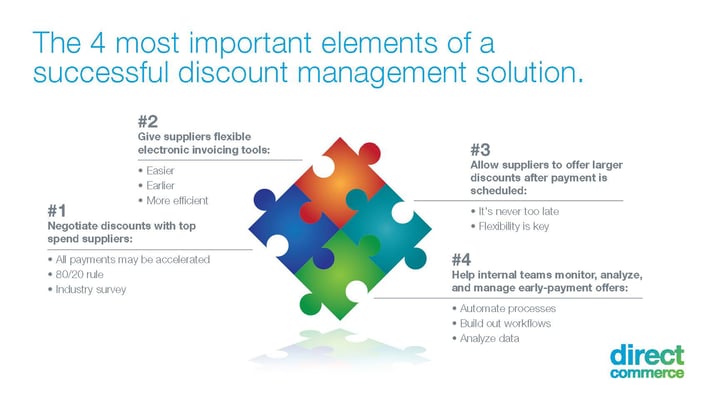 Getting started with discount management
Adopting these four key elements of a successful implementation will help you make the most of your early-payment discount opportunities.
Over the past 15 years, we have talked to hundreds of large companies worldwide about discount management solutions. Surprisingly, very few have integrated all of these elements to realize their full potential. Few have even made certain that these solutions are comprehensive enough to integrate with all steps in their financial supply chain.
At Direct Commerce, our expertise extends well beyond providing a comprehensive and advanced platform. We also deliver extensive supplier onboarding services that many providers don't offer, so we can implement a more comprehensive and successful solution.
These critical services include reaching out to your suppliers to introduce new capabilities they can access, demonstrate their benefits, follow up as needed, and provide all the technical support suppliers need to make the most of their new automation tools.
Clients have benefited from Direct Commerce eInvoicing, Discount Management, and Workflow solutions and our professional supplier onboarding services since 2000. Over the years we have repeatedly deployed our Procure-to-Pay solutions and have measured results to refine our processes and recommendations.
I hope this post inspires you to learn more about all of your supplier discount optimization opportunities as we bet there are substantial, no-risk savings are available to you now. Please contact us if you are interested in learning about some of our client success stories!