To build world-class automation, your team needs the right automation partner and strong discipline around the right KPIs. Read more from our customer and learn the 4 KPIs a leading food distribution company used to measure their AP Automation success.
At the beginning of the pandemic we took the virtual stage with Jeff VanDyke, Director of Shared Services at Gordon Food Service (GFS). In the webinar, we look back together at the road to building world-class automation. We helped Gordon Food Service with a solution that automates their complexity while delivering an easy-to-use platform for their GFS users and their suppliers. The benefits came fast— speeding up invoice turnaround time to 2 days or less, increasing on-time payments to nearly 100%, and eliminating their dispute backlog. Today, we're taking a look back with a lens for key KPIs. We'll look at how GFS implemented their solution and which KPIs are critical for the long term success of any true automation solution.
Watch our on-demand webinar here for the full story about how GFS went from 0% to nearly 100% e-Invoicing and find out how to perform your own return-on-investment (ROI) calculation.
AP Automation Success Benchmarks
---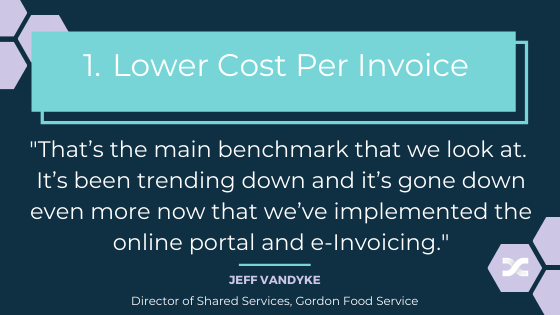 1. See Instant Savings With An Automation Workflow
Tracking your cost per invoice is critical to benchmarking your AP Automation success. With Direct Commerce's AP Automation tools GFS experienced a 50% reduction in their cost per invoice and—with thousands of invoices flowing through their portal annually—the impact has been tremendous. Want to achieve these results at your organization? Partner with an e-Invoicing solution leader. We can onboard your suppliers into our portal and automate your submission, validation, approval and payment processes—resulting in a lower cost per invoice and faster turnaround time.

To get started use our automation ROI worksheet to calculate your expected savings and then contact our team—we'll walk you through the full value that automation can bring to your organization.
---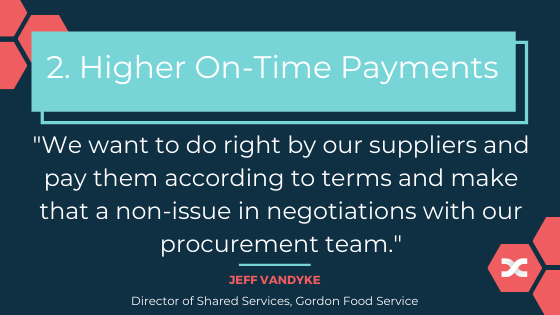 2. Improve Relationships With Your Suppliers (& Procurement)
Prior to automation, GFS found that a third of their invoices were taking over 20 days to get approved, leading to missed payments and discount opportunities. Today, almost 90% of their invoices within their Direct Commerce portal are approved in less than 10 days and nearly 100% are paid on-time.
If you're missing approvals and paying your suppliers late, you're jeopardizing valuable relationships and leaving money on the table. Do right by your suppliers, and your procurement department, by automating your approval workflow to increase on-time payments and supplier satisfaction. Choose a provider who can support automatic escalations, timeout notifications, and more to ensure that you never miss an approval and give your suppliers access to payment data. With a best-in-class automation solution, you should be seeing numbers like those from GFS: over 90% of invoices paid on-time and approved in less than 10 days.
---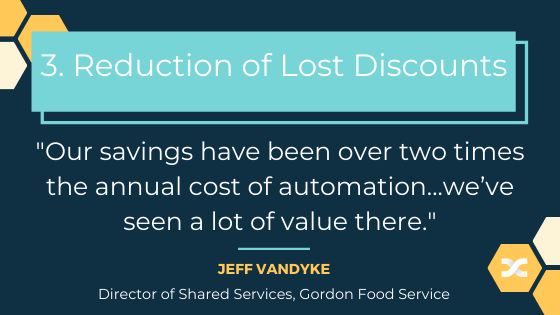 3. Save Money And Pay Your Suppliers Early: The Ultimate Win-Win
As Jeff VanDyke mentioned in our on-demand webinar, GFS did not include discounts in their initial benefits calculation. How much are you saving in early payments? VanDyke shared that with automation, their savings amount to more than double the cost of their automation platform.
Global economies are changing rapidly right now. Dynamic cash management is important for both you and your suppliers, and strategies like early payments and supply chain financing extend cash reserves and improve working capital.
At Direct Commerce, we give you direct access to our expert team. Together we'll deploy a discount management solution configured to your business requirements, saving millions for your enterprise's bottom line. And, coupled with our easy-to-use reporting & analytics tools, you can generate reports, track your success in capturing discounts and make informed decisions across your procure-to-pay process.
---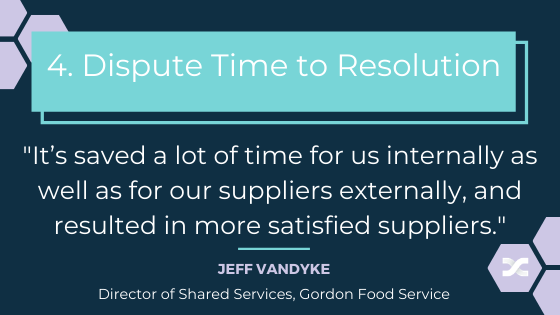 4. Watch Your Dispute Backlog Vanish With The Right Automation Partner
How long does it take your AP team to resolve a dispute? Too long and your suppliers will wonder what happened to their payment. They'll call your AP team, which will reignite the dispute process, snowballing into an unruly manual process, delaying payments and frustrating your suppliers.
When GFS first came to Direct Commerce, they had a massive dispute backlog with over 8,000 emails going without a response for up to 120 days. After onboarding their suppliers into their Direct Commerce portal, GFS was able to eliminate their backlog in a matter of months and now responds to all client inquiries within three business days. The key to success? Supplier adoption.

As our CTO Billy Williams likes to say, "You can build the greatest thing that ever existed, but if you don't have the team, organization, and diligence for rolling it out it will be underutilized." The same process that helped drive GFS success is the same process that can help you maximize the results of your automation, including driving down your dispute time to resolution.
When you're measuring automation success by the right KPIs, you should see a dramatic decrease in your dispute time to resolution. Just ask GFS. With a Direct Commerce solution in place, they now resolve disputes within 3 days on average.
Read about the strategic moves you can make today to better manage your disputes.
-
At Direct Commerce, we believe that benchmarking your success should be easy. That's why we track the metrics that matter within our AP Automation tool. Contact us today and we can show you how to easily generate reports and track all of your KPIs within our platform. And, don't forget to watch our webinar with GFS to see the full value you can expect once you get your suppliers onboarded.