You've dreamed the dream, haven't you? Invoice automation that drives a seamless enterprise process, where invoices are received and processed without a hiccup, without an obstacle, without a bump in the road.
In the days of paper, this dream was impossible to reach. Now, in the days where 67% or more of enterprise invoices are still paper or PDFs, it still feels like a far off vision, this seamless invoice automation solution.
Today's manual processes are still prone to human error, bad data, slow turnaround time, and come with a human capital cost. Each of these can affect supplier relationships.
So how can you streamline your invoicing processes, reduce errors, and cut costs? What will make it easier for suppliers to continue to do business with you?
In this blog, we look at invoice automation, why it matters, and how the Direct Commerce solution can help you drive toward 100% automation by transforming the way you capture and process invoices.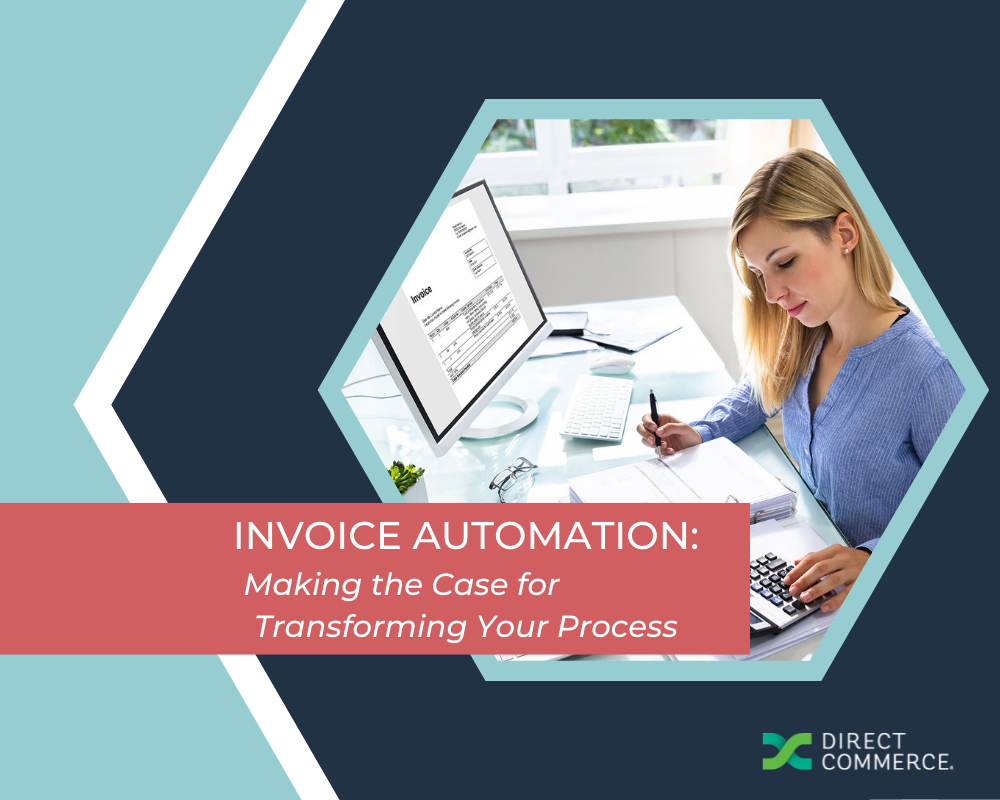 What is AP Invoice Automation?
Invoice automation is a process whereby invoice data is entered into your financial systems seamlessly, regardless of the format in which the invoice is received, enabling most of your invoice process to function automatically, routing any exceptions exactly where you want them to go, automatically in compliance with your business rules.
Paying your suppliers isn't as easy as just cutting a check. It takes a number of steps and communication between you and your suppliers to get from invoice creation to payment.
These steps can include:
Matching up the invoice against a Purchase Order (PO)
Verifying data accuracy on the invoice – line items, prices, quantities, etc.
Routing the invoice to the appropriate personnel for payment approval
Processing payment
When done manually, these processes can be costly, time consuming, and prone to error. With invoice automation, data is seamlessly extracted from your suppliers' invoices, regardless of the format, and entered into your system for payment processing with just a few clicks.
Benefits of AP Invoice Automation Processing
Take a hard look at how your organization currently handles invoice processing – is it speeding up your workflow, or slowing you down?
At enterprise scale, your business is processing millions of transactions. Every manual action in your process is multiplied, driving up process cost. In today's enterprise playbook, extraneous manual processes just don't cut it anymore.
That's where invoice automation comes into play.
Let's take a look at a few of the advantages that invoice automation provides.
---
Learn more in our white paper:
Starting Your Journey to 100% Invoice Automation
---
1. Time Savings
Every repetitive action in your invoicing process is an opportunity for automation. The multiplying effect of eliminating time and effort on every invoice means you're saving millions of dollars in the cost of your invoicing process. All of the steps needed to process and pay an invoice can take weeks if done manually. If automated, that can be reduced to a few days, and in some cases, a matter of minutes.
With your AP department spending less time on invoicing, you're saving human capital cost.
Not only that, but you're also avoiding potential late fees, as well as eliminating the cost of printing invoices.
2. Improved Cash Flow
By reducing turnaround time and expediting payments, you'll have more cash on hand to invest in your organization's initiatives.
On top of that, expeditious invoice processing also lends itself to implementing dynamic discounting, an automation solution that delivers increased working capital for your suppliers while saving you millions in captured discounts..
3. More Accurate Data
It is crucial that data is accurate through every step of the AP automation process. Any small error early on can cascade to larger error-storms across your P2P process.
4. Supplier Satisfaction
If you're not paying your bills on time, continually delivering errors, and frequently drawing out negotiations over supplier disputes – how likely is it that suppliers will want to work with you?
Worried about how you can get your suppliers to engage with your automation solution? We discuss how Direct Commerce's Onboarding and Customer Service team achieves supplier adoption rates well over industry standards in this blog.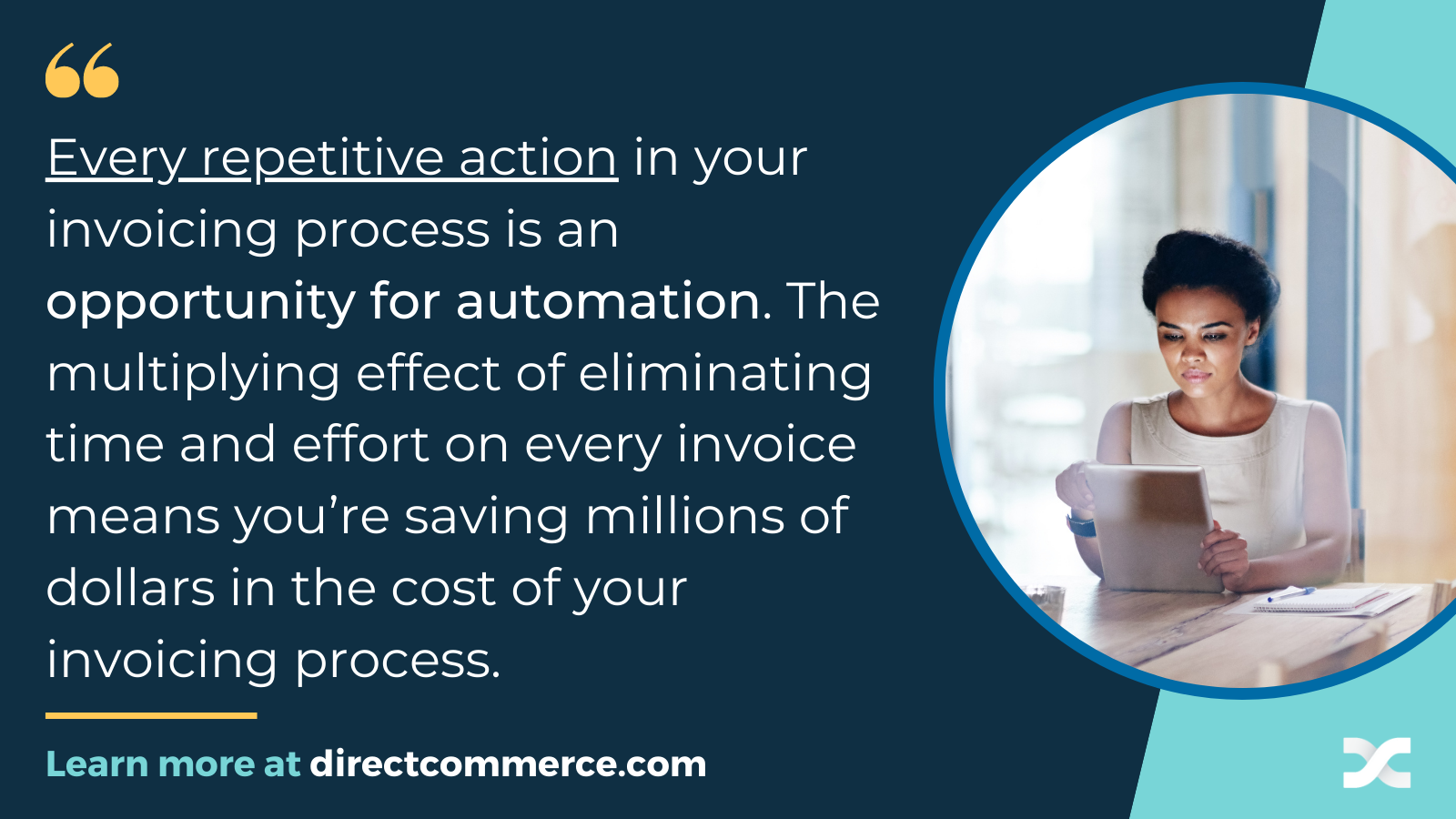 AP Invoice Automation with Direct Commerce
Direct Commerce's invoice automation solution reduces processing time, decreases errors, and boosts efficiency across your AP process, all without the need for costly IT investments or an overhaul of your existing ERP system.
With Direct Commerce, approval and review processes are automated so that invoices, check requests, and P-Card transactions are entered into a central data repository where they are electronically matched against purchasing and receiving information. This automation ensures that all transactions are processed, routed, encoded, and released for payment quickly and seamlessly.
Within the portal, suppliers can easily flip a PO into an invoice, and our system also supports the capture of invoices delivered by email, fax, or file transfer processes using file types such as EDI or XML.
Our secure system provides visibility into the status of an invoice as it progresses through the reconciliation and approval process. Suppliers receive notifications as invoices are approved for payment, and all invoices are routed and delivered and routing into your accounting system – according to your specific business rules.
With workflows built to handle the scale and complexity of Fortune 100 enterprises, and the agility to configure the platform to your specific business rules, Direct Commerce's invoice automation enables your team to streamline processes, speed up turnaround times, and meet your ideal AP outcomes.
Learn More
Want to learn more? Direct Commerce is here to answer your questions as you continue on your journey toward invoice automation.
Contact Us to request more information or schedule a demo.
You may also be interested in these related resources: